Lourdes Media Resources
Media Guidelines
At Lourdes Health, it's part of our mission to provide health education and outreach to our community. We love it when you call to interview our providers or staff on health-related stories! And, we'll do our absolute best to help you with your request.
Our Brand Connects the Community to the Heart of What We Stand For
The Lourdes brand is not about a logo or even a color scheme. It's about memorably communicating who we are and authentically connecting with our community. Using research, collaboration and best practices, our brand elements have been developed to create a distinct look and feel that expresses who we are and what we value.
By following these guidelines, you help strengthen the Lourdes brand and its connection to our community.
Outlines proper usage for logos, typefaces, photography and other design elements.
The Lourdes Identity
Our logo represents many things.
The three modern free-flowing lines suggest the tri-fold unity and strength of the Tri-Cities and the waters of the nearby Columbia, Snake and Yakima Rivers. The lines also suggest an outstretched hand and a flickering flame – symbols of hope, light and faith, and our commitment to care for each person's physical, spiritual, and emotional needs.
The cross reminds us that Our Mission is an extension of the healing ministry of Jesus. In the tradition of the Sisters of St. Joseph, we continue to respond to the healthcare needs of our community in a Christian spirit.
Correct usage of the Lourdes logos is integral to developing and maintaining a consistent brand image and message about our hospital. Whenever you are authorized to use the Lourdes corporate logo, you must comply with the terms outlined in our branding guide. Use the links below to download corporate logos in various file formats.
Main

Color
Black/White
One-Color
Reversed

Color
Black/White
One-Color
Vertical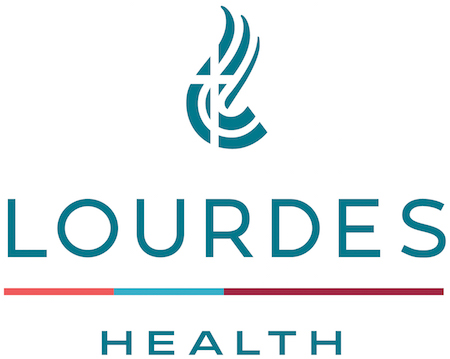 Color
Black/White
One-Color
Terms Of Use
Please send requests for permission to use the Lourdes logo to the attention of the Lourdes Marketing Department prior to use. Please be sure to briefly describe the intended use of the image. Most responses will be generated within one business day.
Lourdes Marketing Department
520 N 4th Ave | 4th Floor
Pasco, WA 99301
Ph 509.546.2307 or 509.221.5949