Coronavirus (COVID-19) Preparedness Information
Page updated November 10, 2022
Lourdes Health is committed to providing the highest quality care and ensuring the safety of our patients, employees, providers, volunteers and visitors. We are continuing to monitor the evolving situation with the coronavirus (COVID-19) and are taking the necessary steps to ensure we are fully prepared to care for patients, in accordance with guidance from the Centers for Disease Control and Prevention (CDC) and in partnership with our local and state health departments.
Below are a number of resources to help educate you and your family on COVID-19. For more information on the virus, please contact the health department.
Up-to-date information is available at www.CDC.gov or through the Washington State Department of Health COVID-19 hotline, 800.525.0127.
---
About COVID-19
COVID-19 is a respiratory illness that can spread from person to person. COVID-19 spreads when an infected person breathes out droplets and very small particles that contain the virus. These droplets and particles can be breathed in by other people or land on their eyes, noses, or mouth. In some circumstances, they may contaminate surfaces they touch. People who are closer than 6 feet from the infected person are most likely to get infected.
COVID-19 most often causes respiratory symptoms that can feel much like a cold, a flu, or pneumonia, but COVID-19 can also harm other parts of the body. Most people who catch COVID-19 have mild symptoms, but some people become severely ill. If someone is showing any of these signs*, seek emergency medical care immediately:
Trouble breathing
Persistent pain or pressure in the chest
New confusion
Inability to wake or stay awake
Pale, gray, or blue-colored skin, lips, or nail beds, depending on skin tone
*This list is not all possible symptoms. Please call your medical provider for any other symptoms that are severe or concerning to you.
Call 911 or call ahead to your local emergency facility: Notify the operator that you are seeking care for someone who has or may have COVID-19.
If you are sick with COVID-19 or think you might have COVID-19, follow the steps below to care for yourself and to help protect other people in your home and community.
Stay at home (except to get medical care).
Separate yourself from others.
Monitor your symptoms.
Wear a mask over your nose and mouth when around others.
Cover your coughs and sneezes.
Wash your hands often.
Clean high-touch surfaces every day.
Avoid sharing personal household items.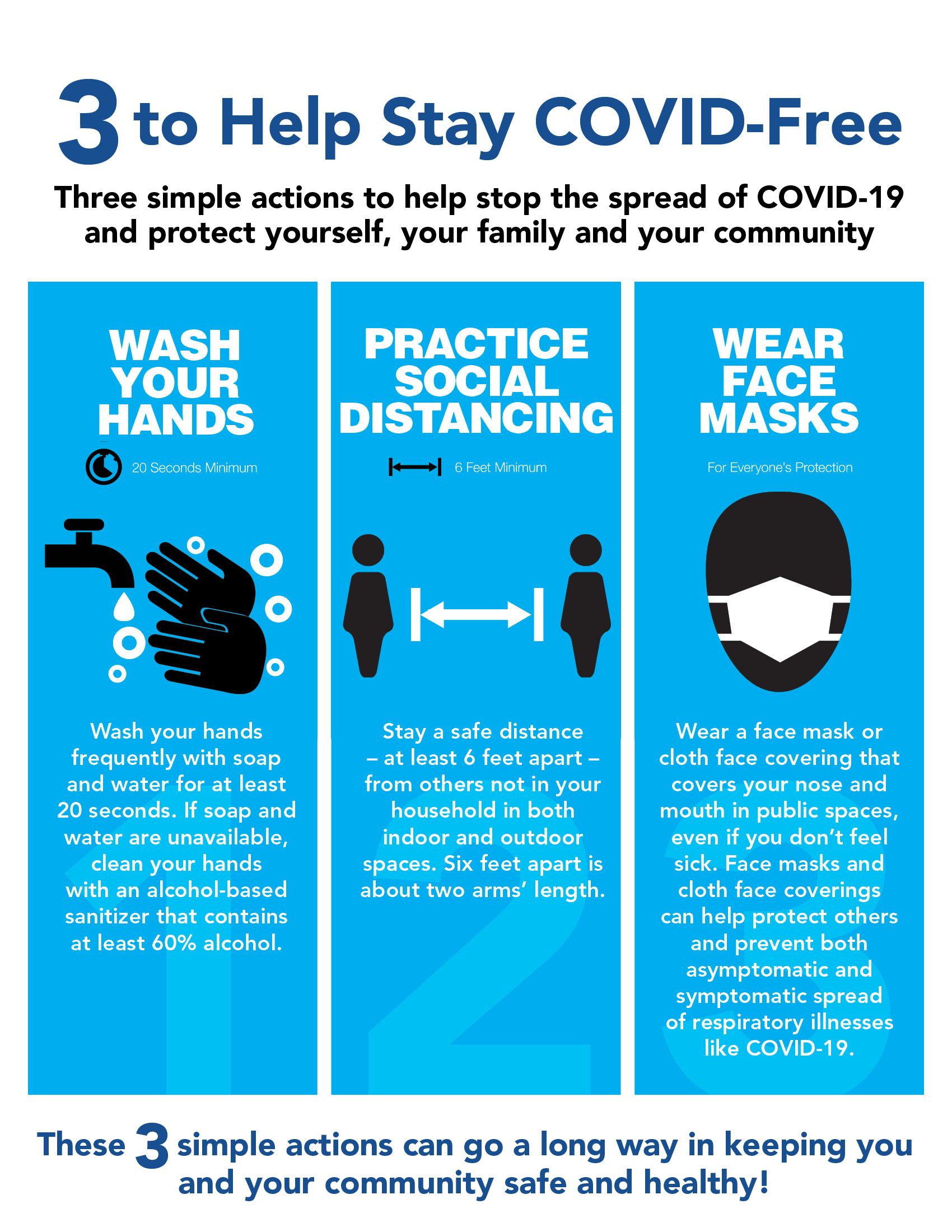 ---
Additional Information & Resources:
Below are a number of resources to help educate you and your family on COVID-19.